A side venture that has emerged from the Nick Cave film project '20000 Days on Earth' is a virtual museum called 'Museum of Important Shit'. Its creators are the film's directors Iain Forsyth and Jane Pollard. It is a happy coincidence from my window on the world given that the new module I am writing called 'Mediating the Past' includes a practical exercise where students are required to curate and upload their own virtual shit (i.e. memories and pop culture memorabilia). I am very much looking forward to seeing the film this week as well…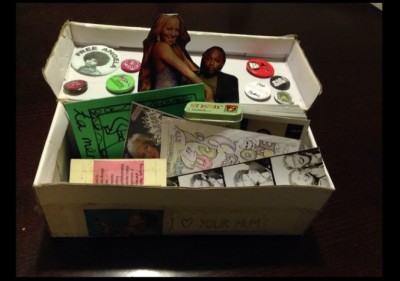 Forsyth and Pollard explain the background to the museum project below:
"This virtual Museum catalogues the things that remind us of those transformative moments that make us who we are, and unlocks the stories connected to them.
This whole thing started with an old piece of chewing gum. Seriously.
We were shooting the film and Nick told us this spine-tingling story. Nina Simone had been a nightmare backstage at one of her final gigs. But when she walked on and sat down, she took the gum from her mouth and stuck it on the piano, and… transformed. It was one of those rare moments. Nick felt the gears of his heart change. We've all had experiences like this.
A few weeks later, we're shooting another scene. Nick is asking bandmate Warren Ellis if he remembers that Nina Simone gig. Warren interrupts: "I have that gum" he says. And he really does. A pathetic looking dirty piece of gum, wrapped in a towel.
As Nick says in the film, "It's shit, but it's important shit. And that's what this Museum is all about. We might not all have the masticated detritus of a jazz legend tucked away, but we all accumulate objects that have little financial value, but they hold the stories of the things that make us who we are. The Museum will unlock these transformative moments that define our very being. We urge you to share them with us, with the Museum, with the world."
Iain Forsyth & Jane Pollard
London, September 2014.