Digital Cities: The Interdisciplinary Future of the Urban Geo-Humanities
Benjamin Fraser (Palgrave Pivot, 2015)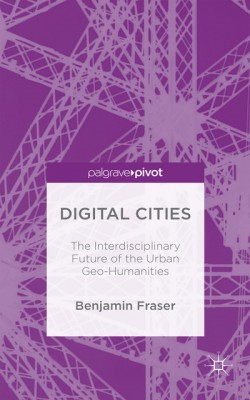 Digital Cities stakes claim to an interdisciplinary terrain where the humanities and social sciences combine with digital methods. Part I: Layers of the Interdisciplinary City converts a century of urban thinking into concise insights destined for digital application. Part II: Disciplinary/Digital Debates and the Urban Phenomenon delves into the bumpy history and uneven present landscape of interdisciplinary collaboration as they relate to digital urban projects. Part III: Toward a Theory of Digital Cities harnesses Henri Lefebvre's capacious urban thinking and articulation of urban 'levels' to showcase where 'deep maps' and 'thick mapping' might take us. Benjamin Fraser argues that while disciplinary frictions still condition the potential of digital projects, the nature of the urban phenomenon pushes us toward an interdisciplinary and digital future where the primacy of cities is assured.