Cartographies of Place: Navigating the Urban
Edited by Michael Darroch and Janine Marchessault
(McGill-Queen's University Press, 2015)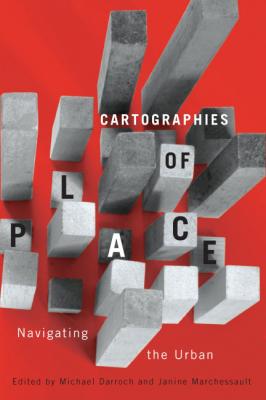 Media are incorporated into our physical environments more dramatically than ever before – literally opening up new spaces of interactivity and connection that transform the experience of being in the city. Public gatherings and movement, even the capabilities of democratic ideology, have been redefined. Urban Screens, mobile media, new digital mappings, and ambient and pervasive media have all created new ecologies in cities. How do we analyze these new spaces? Recognition of the mutual histories and research programs of urban and media studies is only the beginning. Cartographies of Place develops new vocabularies and methodologies for engaging with the distinctive situations and experiences created by media technologies which are reshaping, augmenting, and expanding urban spaces. The book builds upon the rich traditions and insights of a post-war generation of humanist scholars, media theorists, and urban planners. Authors engage with different historical and contemporary currents in urban studies which share a common concern for media forms, either as research tools or as the means for discerning the expressive nature of city spaces around the world. All of the media considered here are not simply "free floating," but are deeply embedded in the geopolitical, economic, and material contexts in which they are used. Cartographies of Place is exemplary of a new direction in interdisciplinary media scholarship, opening up new ways of studying the complexities of cities and urban media in a global context.