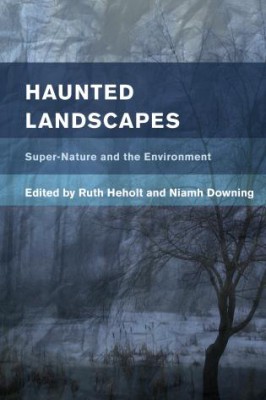 Edited by Ruth Heholt and Niamh Downing | Pages
256 | Size 9.00 x 6.00
Series: Place, Memory, Affect
Examines the concept of landscape as a multitude of places
and spaces haunted by spectres, memory, trauma and nostalgia in literature, art
and film from Victorian times to the present.
Haunted Landscapes offers a fresh and innovative approach to
contemporary debates about landscape and the supernatural. Landscapes are often
uncanny spaces embroiled in the past; associated with absence, memory and
nostalgia. Yet experiences of haunting must in some way always belong to the
present: they must be felt. This collection of essays opens up new and
compelling areas of debate around the concepts of haunting, affect and
landscape. Landscape studies, supernatural studies, haunting and memory are all
rapidly growing fields of enquiry and this book synthesises ideas from several
critical approaches – spectral, affective and spatial – to provide a new route
into these subjects. Examining urban and rural landscapes, haunted domestic
spaces, landscapes of trauma, and borderlands, this collection of essays is
designed to cross disciplines and combine seemingly disparate academic
approaches under the coherent locus of landscape and haunting. Presenting a
timely intervention in some of the most pressing scholarly debates of our time,
Haunted Landscapes offers an attractive array of essays that cover topics from
Victorian times to the present.